UN investigators urge ICC trials for Syria's war criminals
The Syrian conflict has seen nearly 70,000 people killed since March 2011. Both sides have committed war crime violations such as murder and torture, investigators say.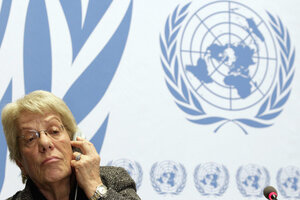 Denis Balibouse/Reuters
United Nations investigators said on Monday that Syrian leaders they had identified as suspected war criminals should face the International Criminal Court (ICC).
The investigators urged the U.N. Security Council to "act urgently to ensure accountability" for violations, including murder and torture, committed by both sides in a conflict that has killed an estimated 70,000 people since a revolt against President Bashar al-Assad began in March, 2011.
"Now really it's time...We have a permanent court, the International Criminal Court, who would be ready to take this case," Carla del Ponte, a former ICC chief prosecutor who joined the U.N. team in September, told a news briefing in Geneva.
---