Venezuela: After months in Cuba, Hugo Chavez returns home
Chavez's homecoming will fuel supporters' hopes he could return to active rule in Venezuela, though he may be simply hoping to smooth a power transition.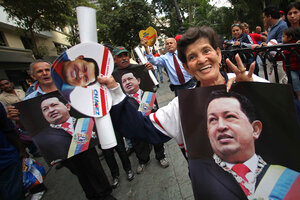 Fernando Llano/AP
Venezuelan President Hugo Chavez made a surprise return from Cuba on Monday more than two months after surgery for cancer that has jeopardized his 14-year rule of the South American OPEC member.
The 58-year-old socialist leader's homecoming will fuel supporters' hopes he could return to active rule but there was no new information on his medical state and Chavez might be simply hoping to smooth a transition.
After a six-hour operation in Cuba on December 11, Chavez had not been seen or heard in public until photos were published of him on Friday.
"We have arrived back in the Venezuelan fatherland. Thanks, my God! Thanks, my beloved people! Here we will continue the treatment," Chavez said via Twitter after flying in.
There had been speculation Chavez was not well enough to travel despite wanting to return for continued treatment for the disease he was first diagnosed with in mid-2011.
But Vice President Nicolas Maduro said Chavez flew in at about 2:30 a.m. local time (2 a.m. ET) from Havana and was in a military hospital in Caracas, where a crowd was gathering.
"I remain attached to Christ and trusting in my nurses and doctors," Chavez also tweeted. "Onwards to victory forever! We will live and we will conquer!"
He added his thanks to Cuban leaders Raul and Fidel Castro for his treatment there.
Fireworks mark return
---