Vatican calls reports of conspiracy by Italian media 'completely false'
Since Pope Benedict XVI announced his resignation the Italian media has speculated there could be more to the story, and has written unflattering stories about the Vatican's administration. On Saturday, the Vatican accused the Italian media of spreading false reports.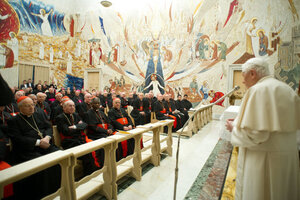 L'Osservatore Romano/AP
The Vatican on Saturday accused the Italian media of spreading "false and damaging" reports in what it condemned as a deplorable attempt to influence cardinals who will meet in a secret conclave next month to elect a new pope.
Since Pope Benedict announced his resignation on Feb. 11, Italian newspapers have been full of rumours about conspiracies, secret reports and lobbies in the Vatican that they say pushed the pope to abdicate.
"It is deplorable that, as we draw closer to the time of the beginning of the conclave ... that there be a widespread distribution of often unverified, unverifiable or completely false news stories that cause serious damage to persons and institutions," a Vatican statement said.
The Italian reports have painted an unflattering picture of the Vatican's central administration, known as the Curia, depicting it as being full of prelates more concerned with their careers than serving the Church or the pope.
Some Church officials, speaking privately, have said foreign cardinals coming to Rome to choose the next pope have been alarmed over reports of corruption and might be inclined to elect someone not connected with the Curia, which is predominantly Italian.
---