Benedict resigns papacy: 'I am simply a pilgrim'
Benedict is keeping his papal name and white robes, along with the title 'Emeritus Pope,' but he has pledged his loyalty to his successor.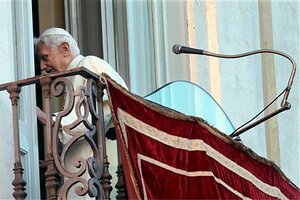 Alessandra Tarantino / AP
As bells tolled and the clock struck 8, the brass-studded wooden doors swung shut Thursday at this palace in the Italian hills, marking an end to Benedict XVI's papacy and the start of his final journey as a "simple pilgrim."
Capping a day of tearful farewells that included an extraordinary pledge of obedience to his successor, Benedict entered history as the first pope in 600 years to resign — leaving the Catholic Church in unprecedented limbo and ending a pontificate shaped by struggles to move beyond clerical sex abuse scandals and reawaken Christianity in an indifferent world.
On Benedict's last day, the mood was vastly different inside the Vatican than at Castel Gandolfo, the 17th-century papal retreat set in the hills south of Rome, where he will spend the first two months of his retirement.
At the seat of the popes, Benedict's staff bade the pontiff goodbye in scenes of dignified solemnity, with Swiss Guards in full regalia and prelates kneeling to kiss his papal ring one last time.
A livelier atmosphere reigned in the countryside, with well-wishers jamming the hilltop town's main square, shouting "Viva il Papa!" and waving the yellow and white flags of the Holy See.
Cheers went up as the 85-year-old Benedict stepped out onto the palace balcony and, arms outstretched, declared his papacy was nearing the end.
---