U.N. peacekeepers freed: Syrians release 21 hostages
Syrian rebels have released 21 U.N. peacekeepers held hostage for four days. The peacekeepers crossed from Syria to safety in Jordan on Saturday afternoon.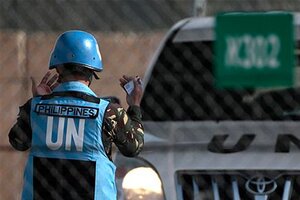 Dan Balilty/AP
Syrian rebels freed 21 U.N. peacekeepers on Saturday after holding them hostage for four days, ending a sudden entanglement with the world body that earned fighters trying to oust President Bashar Assad a flood of negative publicity.
The episode is bound to prompt new questions about U.N. operations in war-torn Syria. The peacekeepers were part of a force that has spent four decades monitoring an Israeli-Syrian cease-fire without incident.
The Filipino peacekeepers crossed from Syria to safety in Jordan on Saturday afternoon, said Mokhtar Lamani, the Damascus representative of the U.N.-Arab League peace envoy to Syria.
U.N. Secretary-General Ban Ki-moon welcomed their release, and called on all parties in Syria to respect the peacekeepers' freedom of movement.
The peacekeepers were seized Wednesday and were held in the village of Jamlah in southwestern Syria, near Jordan and the Israeli-controlled Golan Heights.
Their captors from the Martyrs of the Yarmouk Brigades initially said they would only release the hostages once Syrian troops withdrew from the area. In the days leading up to the abduction, rebels had overrun several regime checkpoints and apparently feared reprisals.
However, as the abduction made headlines, the rebels eventually dropped their demand and began negotiating a safe passage for the peacekeepers with U.N. officials. On Friday, a U.N. team tried to retrieve the hostages, but aborted the plan because of heavy regime shelling of the area.
On Saturday, another U.N. team headed toward Jamlah to try again, said a rebel spokesman, who spoke via Skype, insisting on anonymity for fear of reprisals.
---