In Easter message Pope Francis calls for peace
Pope Francis emphasized his concern for the poor and suffering, and delivered a plea for peace in the Middle East and on the Korean peninsula during his first Easter Sunday Mass.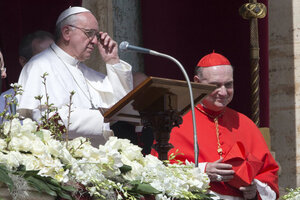 Alessandra Tarantino/AP
Pope Francis delivered a plea for peace in his first Easter Sunday message to the world, decrying the seemingly endless conflicts in the Middle East and on the Korean peninsula after celebrating Mass along with more than 250,000 faithful.
After the Mass in St. Peter's Square, Francis shared in the crowd's exuberance as they celebrated the belief that Jesus Christ rose from the dead following crucifixion. Aboard an open-topped popemobile, Francis took a lighthearted spin through the joyous gatherers, kissing babies and patting children on the head.
One admirer of the pope and the pope's favorite soccer team, Argentina's Saints of San Lorenzo, insisted that Francis take a team jersey he was waving at the pontiff. A delighted Francis obliged, briefly holding up the shirt.
Since the start of his papacy on March 13, Francis has repeatedly put his concern for the poor and suffering at the center of his messages, and the Easter speech he delivered from the balcony of St. Peter's Basilica reflected his push for peace and social justice.
He said he wished a "Happy Easter" greeting could reach "every house and every family, especially where the suffering is greatest, in hospitals, in prisons." Francis prayed that Christ would help people "change hatred into love, vengeance into forgiveness, war into peace."
As popes before him have, he urged Israelis and Palestinians to resume peace talks and end a conflict that "has lasted all too long." And, in reflecting on the two-year-old Syrian crisis, Francis asked, "How much suffering must there still be before a political solution" can be found?
---