Angelina Jolie funds Afghan girls' schools with new jewelry line
Angelina Jolie opens a school for 200-300 girls in Afghanistan, in an area outside Kabul that has a high refugee population. This is the second girls' school Jolie is funding, and she says she plans to fund more with proceeds from her new jewelry line.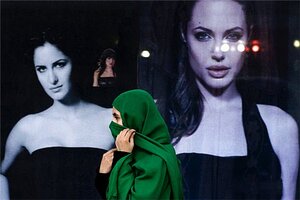 Hossein Fatemi / AP
Angelina Jolie has opened another girls school in Afghanistan and plans to fund more from the proceeds of a jewelry line going on sale this week that she helped to design, celebrity website E! News reported on Monday.
Jolie, a goodwill ambassador for the United Nations High Commissioner for Refugees, funded the girls-only primary school in an area outside Kabul that has a high refugee population, E! News said in an exclusive report.
The school educates 200-300 girls, E! said. It showed pictures of the school, which opened in November, and a plaque acknowledging Jolie's contribution.
Jolie also funded a girl school in eastern Afghanistan that opened in 2010, according to the UNCHR.
Jolie's representatives did not return calls for comment.
E! said that Jolie plans to pay for more schools by selling a "Style of Jolie" jewelry line that she helped create with jewelry maker Robert Procop. Procop designed the engagement ring given to the actress by her partner Brad Pitt in April 2012.
---