Afghanistan fails to pass law banning violence against women
A law banning violence against women, considered a major step forward in women's rights in Afghanistan, failed to pass parliament. The law would have also created shelters for abused women, and limited the number of wives permitted to two.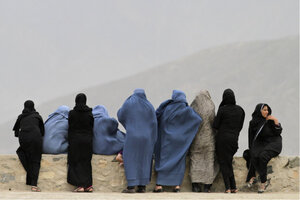 Ahmad Jamshid/AP
Afghanistan's parliament failed to pass a law on Saturday banning violence against women, a severe blow to progress made in women's rights in the conservative Muslim country since the Islamist Taliban was toppled over a decade ago.
President Hamid Karzai approved the law by decree in 2009 and parliament's endorsement was required. But a rift between conservative and more secular members of the assembly resulted in debate being deferred to a later date.
Religious members objected to at least eight articles in the legislation, including keeping the legal age for women to marry at 16, the existence of shelters for domestic abuse victims and the halving of the number of wives permitted to two.
"Today, the parliamentarians who oppose women's development, women's rights and the success of women... made their voices loud and clear," Fawzia Koofi, head of parliament's women's commission, told Reuters.
Women have won back the hard-fought right to education and work since the Taliban was toppled 12 years ago, but there are fears these freedoms could shrink once NATO-led forces leave Afghanistan by the end of next year.
Increasing insecurity is deterring some women from seeking work outside the home, and rights workers accuse the government of doing too little to protect women - allegations rejected by Karzai's administration.
"2014 is coming, change is coming, and the future of women in this country is uncertain. A new president will come and if he doesn't take women's rights seriously he can change the decree," Koofi said of the Elimination of Violence Against Women Law, which goes by the acronym EVAL.
---