Historic swearing in for Pakistani lawmakers as challenges lie ahead
Pakistan's new Prime Minister Nawaz Sharif was sworn in Saturday along with other lawmakers in a peaceful, democratic transfer of power. Sharif must lead a country that struggles with energy shortages, an ailing economy, and ongoing militant activity.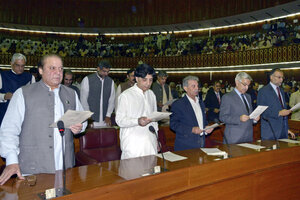 Pakistan Muslim League-N party/AP
Newly elected members of Pakistan's National Assembly were sworn in Saturday, officially marking the first transition of power between democratically elected civilian governments in the nearly 66-year history of this coup-prone country.
Among the steep challenges the legislators will face: massive energy shortages that leave some Pakistanis without power for up to 20 hours a day; a badly ailing economy that might force the Muslim-majority nation to seek an international bailout; and ongoing militant activity by Taliban and other extremists whose violence has killed thousands in the past decade and badly strained Pakistan's alliance with the United States.
Arriving at the Parliament building in Islamabad on a bright, hot day under tight security, the lawmakers were immediately mobbed by reporters. Among those in the spotlight was the incoming prime minister, Nawaz Sharif, whose Pakistan Muslim League-N handily won the May 11 elections.
"We are facing many challenges, but God willing, we will overcome them," said Sharif, who twice served as prime minister in the 1990s and was ousted in a 1999 military coup. The 63-year-old is expected to be sworn in as prime minister and appoint his Cabinet in the coming week.
Outgoing National Assembly Speaker Fehmida Mirza solemnly administered the oath to incoming legislators at noon. Afterward, lawmakers were called up to the front of the hall one by one to sign documents formalizing their membership.
The PML-N has captured 176 seats in the 342-member lower house of Parliament. The previous ruling Pakistan People's Party was crushed, earning just 39 seats.
Former cricket star Imran Khan's Pakistan Tehreek-e-Insaf party won 35 seats, and has pledged to act as a strong opposition. Khan, who is still recovering after fracturing three vertebrae and a rib when he fell off a forklift in the last few days of the campaign, did not attend Saturday's session.
The simple act of the oath-taking was historic in Pakistan, a country of 180 million that was carved out of India in 1947. For most of its history, military coups and other political turmoil prevented elected civilian governments from finishing their terms.
Despite its widely perceived incompetence, the fact that the government led by the People's Party survived its full five-year term was a significant accomplishment. Pakistanis hope peaceful transfers of power between civilian leaders will become the norm and ultimately lead to more government accountability.
---