Maria Sharapova slams Serena Williams for rape, boyfriend remarks
Maria Sharapova returned a verbal volley at Serena Williams over veiled remarks Williams made about her in a Rolling Stone interview. Sharapova and Williams will play at Wimbledon this week.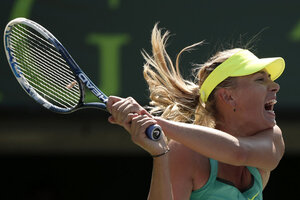 Kevin Lamarque/Reuters
Maria Sharapova took a shot at Serena Williams — and it was nowhere near a tennis court.
At her pre-Wimbledon news conference on Saturday, Sharapova was asked about a recent Rolling Stone article where the author surmised that critical comments directed at an unnamed player by Williams were referring to Sharapova.
"At the end of the day, we have a tremendous amount of respect for what we do on the court. I just think she should be talking about her accomplishments, her achievements, rather than everything else that's just getting attention and controversy," Sharapova said.
"If she wants to talk about something personal, maybe she should talk about her relationship and her boyfriend that was married and is getting a divorce and has kids. Talk about other things, but not draw attention to other things. She has so much in her life, many positives, and I think that's what it should be about."
Williams has been linked to coach Patrick Mouratoglou, but neither has confirmed their relationship extends beyond the court. When Mouratoglou was asked about the topic at the French Open this month, he smiled and replied: "Sorry. I don't understand the question."
According to the Rolling Stone story, posted online on Tuesday, Williams spoke about what the reporter described as "a top-five player who is now in love."
---