Snowden search on Bolivian plane sparks Latin American criticism
Leaders across Latin America shared concerns about the significance of the diversion of Bolivian President Evo Morales' plane. Bolivian officials suggested the United States encouraged the diversion because Morales previously suggested he would consider granting asylum to former NSA contractor Edward Snowden.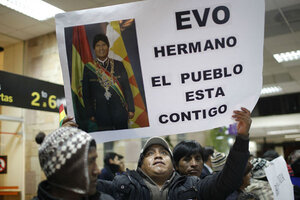 AP Photo/Juan Karita
Latin American leaders slammed European governments on Wednesday for diverting Bolivian President Evo Morales' plane on rumors it was carrying a wanted former U.S. spy agency contractor, and announced an emergency summit in a new diplomatic twist to the Edward Snowden saga.
Bolivia said Morales was returning from Moscow on Tuesday when France and Portugal abruptly banned his plane from entering their airspace due to suspicions that Snowden, wanted by Washington for leaking secrets, was onboard. Italy and Spain also banned the plane from their skies, it said.
The unusual treatment of the Bolivian military aircraft touched a sensitive nerve in the region, which has a history of U.S.-backed coups. Regional leaders, particularly from the left, rallied behind Morales, Bolivia's first indigenous president and a former union leader of the country's coca farmers.
"(These are) vestiges of a colonialism that we thought were long over. We believe this constitutes not only the humiliation of a sister nation but of all South America," Argentine President Cristina Kirchner said in a speech in Buenos Aires.
Heads of state in the 12-nation South American bloc Unasur denounced the "unfriendly and unjustifiable acts." The grouping issued a statement late on Wednesday saying the presidents of Ecuador, Bolivia, Venezuela, Argentina, Uruguay and Surinam had agreed to attend a summit in Cochabamba, Bolivia, on Thursday.
---