Mohamed ElBaradei named as Egypt interim prime minister
The Nobel laureate has been an opposition leader and voice of dissent since the fall of Egypt's military government two years ago.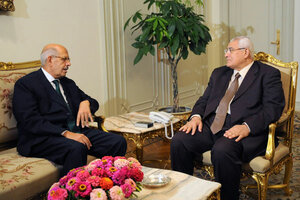 AP Photo
Egypt's new president moved to assert his authority Saturday by naming a chief rival of ousted leader Mohammed Morsi as interim prime minister and holding crisis talks with security officials on efforts to reclaim control of the streets.
The steps by the untested Adly Mansour, however, are likely to deepen the defiance by Islamist opponents who have turned parts of the Cairo into vigilante-guarded strongholds and have issued blood oaths to battle until Morsi is restored.
After a night of clashes that claimed at least 36 lives, both sides appeared to be preparing for the possibility of more violence as Egypt's political unraveling increasingly left little room for middle ground or dialogue.
GALLERY: Egypt Grapples with an Uncertain Future
In the eastern suburb of Nasr City — near the main rallying point for Morsi's Muslim Brotherhood — lines of fighters brandished homemade weapons and body armor at road blocks affixed with Morsi's picture.
Next door in the relatively upscale Heliopolis district, people chanted against Morsi and honked car horns in appreciation of roadblocks manned by Egypt's military — whose snub of Morsi's authority earlier this week tipped the scales against Egypt's first elected leader.
Mansour's decision to bring pro-reform leader and Nobel laureate Mohamed ElBaradei into the key government role of prime minister is also certain to help cement the loyalties of the anti-Morsi forces.
---