Syria: Kurdish rebels release al-Qaida-linked commander
As part of an agreement to end infighting amongst Syrian rebels, Kurdish rebels released Abu Musaab, believed to be the commander of an al-Qaidi-linked group in a town near Turkey's border in exchange for 300 Kurdish civilians.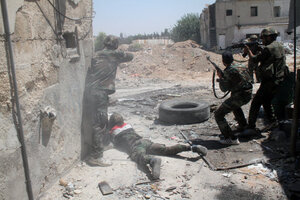 Bassem Tellawi/AP
Kurdish rebels freed the local commander of an al-Qaida-linked group in a town near Syria's northern border with Turkey in return for 300 Kurdish civilians detained by the group, as part of an agreement to end rebel infighting that erupted a day earlier in the region, activists said Sunday.
The commander in the town Tal Abyad, who is known as Abu Musaab, was captured amid intense fighting between the Islamic State in Iraq and the Levant and Kurdish militants late Saturday, the Britain-based Syrian Observatory for Human Rights said. The Islamic fighters retaliated by rounding up civilians believed to be relatives of the Kurdish fighters to hold as bargaining chips.
Infighting between al-Qaida militants and more mainstream Syrian rebels, as well as between Kurds and Arabs, has grown more common in Syria in recent weeks — part of a power struggle that is undermining their efforts to topple President Bashar Assad.
Kurdish gunmen have been fighting to expel al-Qaida militants — many of who are foreign fighters — from the northeastern province of Hassakeh over the past week. More than 60 fighters were killed from both sides, according to activists.
On Saturday evening, the fighting spread to Tal Abyad, near the Turkish border.
The inter-rebel clashes, along with the efforts by extremist foreign fighters to impose their strict interpretation of Islam in areas they control, are chipping away at the opposition's popularity at a time when the regime is making significant advances on the ground.
In recent weeks, Assad's troops have seized the momentum in the civil war, now in its third year. His forces have been on offensive against rebels on several fronts, including the north.
---