In frustration, Zimbabwe opposition drops challenge to Mugabe reelection
Facing doubts of a fair hearing, and difficulties obtaining crucial evidence from authorities, on Friday Zimbabwe's Movement for Democratic Change withdrew it's challenge to President Robert Mugabe's reelection.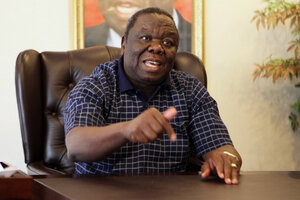 Tsvangirayi Mukwazhi/AP
Zimbabwe's opposition Movement for Democratic Change said Friday that it is withdrawing a court challenge over disputed election results that gave long-time President Robert Mugabe a commanding victory, saying it did not believe it would get a fair hearing.
The party said in a document filed at the Constitutional Court that it will not participate in a hearing scheduled Saturday and asked that the nine judges of the highest court be advised of the withdrawal. Outgoing Prime Minister Morgan Tsvangirai is a leader of the opposition group.
By late Friday evening, the MDC had not received another court judgment on its demands for the release of crucial election material by the state Election Commission. It believes the material will help it corroborate claims that up to 1 million eligible voters were kept from voting and that ballots were cast in the names of dead people.
Nelson Chamisa, the fourth-ranking party official, told The Associated Press that it was impossible to proceed with Saturday's hearing without full information and evidence it had sought from election authorities.
"There is no value in us going to the courts without the proof that is beyond doubt," he said.
Attorney Chris Mhike said even if a last minute ruling was made to force the election body to release the material sought, it left no time for an analysis of voting figures. Chamisa said without the proof it sought from the election body, Saturday's challenge would likely be thrown out, undermining the opposition's position.
"We are refusing to give Mugabe legitimacy through his courts," he said.
After violent and disputed elections in 2008, Mugabe was forced by regional leaders to form a shaky power-sharing coalition with Tsvangirai. But the 89-year-old Mugabe was said to have garnered 61 percent of the presidential vote to Tsvangirai's 34 percent in the July 31 election.
The longtime president has traditionally appointed Zimbabwe's judges and has long been accused of packing the judiciary with his sympathizers.
---