Gay weddings begin in New Zealand, including one at 39,000 feet
Gay marriage was legalized in New Zealand in April, and the law took effect Monday. One high-profile and high-altitude wedding took place on a plane, with witness Jesse Tyler Ferguson.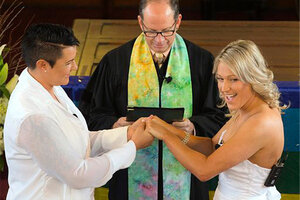 Greg Bowker/New Zealand Herald/AP
When Lynley Bendall and Ally Wanikau walked down the aisle to exchange vows, the fasten-seatbelt signs were off.
The couple celebrated the legalization of gay marriage in New Zealand by getting hitched in a plane at 39,000 feet (11,900 meters). Along for the ride was Jesse Tyler Ferguson, star of the American TV sitcom "Modern Family."
Instead of soda and peanuts, the flight attendants served champagne and canapes.
Monday was the first day same-sex couples could marry in New Zealand, where the law was changed in April. Officials said about three dozen same-sex couples planned to marry.
Bendall and Wanikau were flying high after winning a promotion by national carrier Air New Zealand. Their winning video featured their three young foster children holding handwritten signs saying why their parents should get married on a plane, including one that read "Wow!! Imagine that for news at school!!!"
Bendall said the law change is "huge" for New Zealand: "We're so proud."
She and Wanikau have been together 13 years. They are both childcare workers and met through work.
The newly wed Ferguson, whose husband Justin Mikita was also on the flight, said he hoped to help shine the spotlight on New Zealand's law change.
"So I'm very happy to come out here with my husband to bring some attention to this great day," said Ferguson, who was married in New York City last month.
---