Monsoon rains hits Philippines triggering landslides
Monsoon rains in the northwest area of the Philippines caused massive landslides, resulting in at least 20 deaths. The area was already weakened after a typhoon Usagi earlier this week.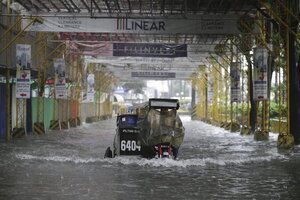 Aaron Favila/ AP Photo
Torrential monsoon rains hit the northwestern Philippines on Monday, triggering landslides and killing 20 people in areas already weakened by a powerful typhoon, and raising the death toll to 47 from storms across Asia.
Philippine officials said soldiers and villagers were also searching for at least seven people missing in mountainside villages hit by the landslides Monday in the province of Zambales.
In China, where Typhoon Usagi struck after passing by the Philippines, officials said the storm killed 25 people in the southern province of Guangdong, 13 of them in the city of Shanwei where it struck the coast late Sunday.
The other deaths came when two people drowned when a passenger boat capsized in northeastern Aurora province in the Philippines.
Subic Mayor Jeffrey Khonghun said 15 bodies were dug out in two landslide-hit villages in his town. Five people also died in landslides in two other towns in Zambales, according to army officials and police.
Rescuers used their hands, pots and shovels to dig through the muck that buried a cluster of houses while relatives of two other missing residents waited in the rain in the village of Wawandue.
---