Amidst Kenya mall attack, generosity and unity
'We all came together as Kenyans and took care of each other,' said one Kenyan. Volunteers fed and helped survivors, police, soldiers, and medical personnel.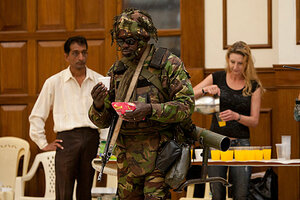 (AP Photo/Sayyid Azim)
The volunteers kept bringing food, boxes upon boxes of cookies and bottled water. After shoppers and workers were mowed down by Al Qaeda-linked militants at a mall in Kenya's capital, a Hindu religious center 600 meters (650 yards) away became a place where responding soldiers, police and others could get tea, food and rest.
The scores of Kenyan military personnel, government officials and others who used the Oshwal Religious Center as an oasis didn't go hungry. Volunteers, singly and in groups, brought tea, cookies, cakes, buttered bread and, most of all, comfort to those who were emerging from the scene of the horrifying terrorist attack, where the corpses of men, women and children were sprawled on floors amid bursts of gunfire and explosions.
Some volunteers stayed up all night so there would be a constant supply of hot tea for soldiers as well as humanitarian workers, journalists and others monitoring events inside Nairobi's Westgate mall. It also served as a first aid center at times. On Monday civilian doctors treated a Kenyan soldier for a bullet wound to his hand.
"This was a place where you got served without questions," said Eric Mwangi, a police officer. "No one asked you who you were or where you came from. We were always comfortable here."
It was also a place where people, by bringing items to the center, could show unity in the face of unspeakable atrocities. More than five years ago Kenyans were divided, with members of the Kikuyu, Kalenjin and Luo tribes killing each other in the wake of a disputed election. In the past week Kenyans came together as members of the Somali Islamic extremist group al-Shabab carried out the worst terrorist attack in Kenya since 1998, when the U.S. Embassy in Nairobi was bombed by Al Qaeda
---