Philippines earthquake: Did Muslim holiday save lives?
Philippines earthquake: The magnitude 7.2 earthquake Tuesday struck Cebu and Bohol hardest, killing at least 90 people. But some say the toll could have been higher if the country hadn't declared a new Muslim holiday.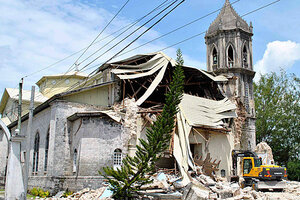 REUTERS/STRINGER
A powerful earthquake measuring 7.2 struck islands popular with tourists in the Philippines on Tuesday, killing at least 90 people, some as they prayed in a centuries-old church, and causing widespread damage to infrastructure, officials said.
Low-rise buildings collapsed on at least two islands and historic churches in the predominantly Catholic country cracked and crumbled during the quake, which sparked panic, cut power and transport links and forced hospitals to evacuate patients.
At least 65 people died in collapsed structures and landslides on the island of Bohol, 630 km (390 miles) south of the capital, according to a report from the region 7 office of the National Disaster Risk Reduction and Management Council (NDRRMC).
The report said eight others died in Cebu and another on Siquijor island. An earlier report had put the death toll in Cebu at nine.
More than 260 were wounded on Cebu and Bohol islands.
But it was noted that the death toll could have been higher if Tuesday wasn't a new public holiday in the Philippines. At the time of the quake, schools and office buildings would normally have been filled. The national holiday is the Muslim holiday known as Eid al-Adha (Feast of the Sacrifice), which commemorates the willingness of Abraham to follow Allah's (God's) command to sacrifice his son Ishmael.
President Benigno Aquino said he would visit earthquake-damaged areas on Wednesday. "Many of the structures there are old," he told reporters after attending the briefing.
The death toll looks bound to rise. Dennis Agustin, Bohol provincial police director, said in a radio interview as many as 77 people had died in 11 towns on the island, much of which was left without power and communications.
Four bridges and some government buildings collapsed in Bohol. Roads cracked, with many declared impassable due to landslides, prompting the authorities to declare a state of calamity in the province, along with Cebu.
Renato Solidum, head of the state seismology agency, said the magnitude 7.2 tremor had struck near Carmen town on Bohol island at 8:12 a.m. (0012 GMT).
---