People making a difference: Steve Korman
With the US mired in a deep recession, this CEO is challenging fellow business leaders to resist layoffs.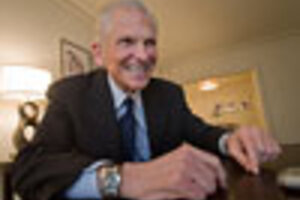 Courtesy of David M Warren/The Philadelphia Inquirer
Calling Steve Korman a "people person" is like calling Cézanne just another painter. For one thing, the CEO of Korman Communities says his three sons, now in their 40s, are his best friends.
"We hug every day," he says, and you believe him. Mr. Korman is also best friends with his first wife, though he's been remarried 16 years. As a kid he was best friends with his grandfather. A longtime city dweller, he's now out in the suburbs, the better to be near his eight grandchildren. This is just the tip of the Steve Korman ("it's Steve") friendship iceberg.
His wide embrace encircles pretty much everyone. When he hears of poor kids needing drums for their dance group, he buys them. When a parent needs Christmas money, he plays Santa. He's a Republican who loves President Obama. He has fed the homeless for two decades, has fought for the unfairly accused, and admits that he cries easily.
He even has props for basketball coach Jay Wright as we speak on the day Mr. Wright's Villanova team faces Korman's favorite, Duke, in the NCAA tournament. "He gets it," he says of Wright – Korman shorthand for those he thinks put people first.
---