People Making a Difference: Bob Hildreth and Lisa Ballantine
These two innovators, working independently, provide cheap, effective filters that make polluted water potable.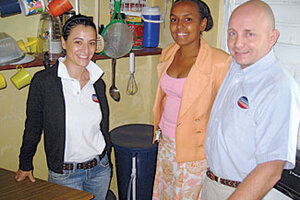 Moises Velasquez-Manoff
Puerto Plata, Dominican Republic
In 1991, Bob Hildreth drilled a well for his new home here. Not long after, people lined up at the spigot alongside his house. Potable water, he'd discovered, was in short supply.
Eighteen years later – the longest time this former US Army aviator has spent in any one place – Mr. Hildreth devotes half his time to his jewelry business, Joyería las Americas, and the other half getting durable, low-tech water filters into the island's barrios.
Worldwide, at least 1.1 billion people don't have access to safe drinking water, according to the World Health Organization, and 2.4 billion lack basic sanitation. Some 1.8 million people die each year from diarrhea, which has been tied to unsafe drinking water – the majority of them children in developing countries.
Given that these losses are preventable, potable water doesn't seem to get the attention it deserves, says Mark Sobsey, professor of environmental sciences at the University of North Carolina at Chapel Hill. "Priorities are higher for other development activities than this," he says. "Sanitation, especially, is not very sexy."
Even piped-in water isn't necessarily safe, Hildreth says. In the developed world, constant water pressure keeps whatever's lurking outside the pipes at bay. In the developing world, however, where power outages are common, water pressure drops and at times even reverses, sucking in raw sewage that's often outside. When the system begins pumping again, it's delivering contaminated water.
---