Extreme do-gooders – what makes them tick?
Five extraordinary social entrepreneurs talk about their defining moments - when the urge to change the world gathered such force they couldn't ignore it.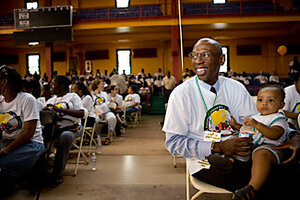 Kristen Olson/ Special to The Christian Science Monitor
Most people in the world, it's fair to say, want to do a little good. At the very least, we try to follow a kind of secular golden rule: Try to do no harm. But in our communities and around the world, there's a kind of person who takes all this further – to an extreme, even. They're called, most often, "social entrepreneurs," and some of them have become famous, at least in certain circles: Muhammad Yunus, the 2006 Nobel Peace Prize laureate, is revered in do-good financial circles for pioneering microfinance, a lending system for the very poor. Some rub shoulders with the famous: Jody Williams, whose global campaign against land mines won the 1997 Nobel Peace Prize, found a fan in Britain's late Princess Diana. Others are treated like rock stars themselves: Mention Paul Farmer, the public-health innovator and subject of the bestseller "Mountains Beyond Mountains," and grown graduate students swoon like tweens at a boy band concert.
From protecting our natural environment to improving our children's education to combating global poverty and disease, we've come to rely on extreme do-gooders to tackle the world's toughest problems. And they're happy to do so, even though their dedication will cost them in the long run. Few of them will make as much as they could in the private sector. They may lose a relationship with a loved one to their work, or miss their kids' big moments.
All of which raises the obvious: Why? What makes these people tick, and how do they sustain a lifetime of commitment to a change that might take generations to see?
---