Mentoring juveniles before they become adult criminals
Law school graduates Whitney Louchheim and Penelope Spain founded Mentoring Today, a Washington, DC program where volunteers are mentoring juveniles, trying to help keep them out of jail in the future.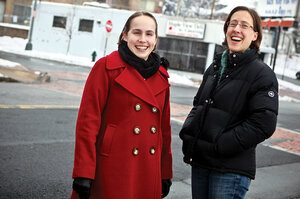 Michael Bonfigli/Special to The Christian Science Monitor
In their first job out of law school, Whitney Louchheim and Penelope Spain worked, literally, in a closet. With neither windows nor air conditioning, "my wrists stuck to the keyboard when I typed," Ms. Louchheim remembers. The two had borrowed the closet-cum-office from a nonprofit group in an unsavory neighborhood.
"We were right next to … the biggest open-air heroin market in D.C.," Ms. Spain recalls. Their location was difficult for outsiders to comprehend. "Our parents would come to visit, and they were terrified," Spain says. "My father just looked at me like, 'This is what has become of my daughter and her law degree?' "
But from the moment they met on orientation day at American University, the two women had bonded over an unconventional vision: to help young men in jail leave Washington's juvenile justice system and find their way to productive, fulfilling lives.
Louchheim and Spain cofounded Mentoring Today, a nonprofit that matches volunteer mentors with youths serving time at the district's juvenile lockup, then called Oak Hills.
In 2004, when the women first began planning their project, roughly one-third of the young men who'd been imprisoned were sent back to Oak Hills within a year of being released. Louchheim and Spain knew some of them: They had started a tutoring program that brought classmates from American University into Oak Hills.
---