Teacher combats a Colombian youth crisis with dance
Internationally known dancer Alvaro Restrepo returned to his native land to help slum-dwelling children discover their potential and change their lives.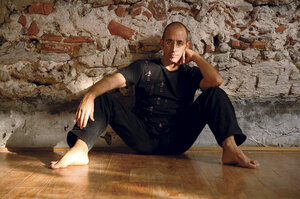 Carlos Duque/Courtesy of El Colegio Del Cuerpo
Cartagena de Indias, Colombia
Had Yarisel Castro, a petite, soft-spoken young woman from a tough neighborhood of Cartagena, not found El Colegio del Cuerpo (The Body School), she says she would probably be what most of her school friends are today: a teenage mom with no career prospects.
Cartagena, Colombia, conjures up the image of a Spanish colonial paradise on the Caribbean Sea. But in the sprawling slums on its margins, girls like Ms. Castro show another face of this port city, where racism, rigid social classes, and a lack of education hold many down.
When she was 12, Castro saw a performance in her school by The Body School, cofounded by dancer and choreographer Alvaro Restrepo. It changed her life.
Castro joined the school and now, nearly a decade later, she says she dreams of opening her own dance school one day. "I want to help others the way Alvaro has helped me," she says. "Here they taught us to treat our body well, not to do damage to it with alcohol or drugs. I want to make others conscious that they can be free and express themselves in another way."
Castro is one of scores of young people from Cartagena who have changed their lives at The Body School. Mr. Restrepo, an internationally known dancer, founded it along with French dancer and choreographer Marie France Delieuvin in 1997. The school has a professional troupe and training school, as well as myriad educational programs that focus particularly on children from slums or individuals displaced by the paramilitary and guerrilla conflicts in rural areas.
---