After seeing Mumbai's slums bulldozed, he now works to save and restore them
Crews once bulldozed thousands of slum homes in Mumbai, a metropolitan region of about 16 million people in India. Santosh Thorat sees a better way: Help residents fix them up.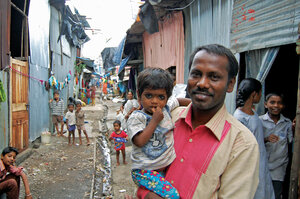 Taylor Barnes
Santosh Thorat, a young father of five, had picked up an extra day's work. He left the two-story home in the east Mumbai slum of Anna Bhau Sathe Nagar, the home that he'd built himself and shared with about 17 others. They were all the children and grandchildren of his dalit (untouchable) caste father, whose job had been to serve his village by whipping himself when bad luck came upon them.
A bulldozing crew had recruited Mr. Thorat as a temporary security guard to quell protesters in Mandala, a slum within walking distance of his own. It would be his first time working on a demolition.
"That day when I went to work, I thought, 'I don't want to do this,' " the small, scratchy-voiced Thorat says. He watched a crying mother who had returned from the store to find her home flattened.
"Even though I was working with the police, I wasn't really with them at heart ... because I also live in the slums," he says.
The next day's assignment was to bulldoze his own neighborhood. Don't flatten my house, Thorat pleaded with his bosses, who knocked down other parts of the slum for two days. On the third day, they told Thorat to take some time off. They demolished his house. By the fourth day, his family was living in a tent.
That was during the peak of Mumbai's demolition drive, December 2004, when an estimated 85,000 dwellings were bulldozed in a matter of months. Activists estimate that 300,000 people were left homeless.
Like his father, who had moved to the city from a village about 300 miles away to find construction work and garbage-picking jobs, Thorat had pieced together odd jobs in the building trades and as a temporary guard for the police to support his family in Mumbai (also called Bombay).
And like his father, who rebelled and cut the long dreadlocks his caste was expected to wear – leading other untouchables to cut theirs, too – Thorat decided that day to turn to protest. His idea was simple: What if the funds used to bring down slums were put toward developing them instead?
---