He invites suicide jumpers for a cup of tea
Don Ritchie moved to a house outside Sydney, Australia, for the clifftop view. But soon he was stopping suicides by inviting potential jumpers inside for a cup of tea.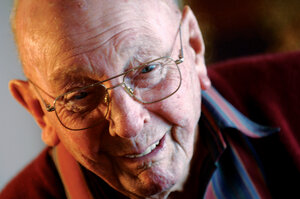 Jeremy Piper/AP
Don Ritchie bought his house for the beautiful views it affords of Sydney Harbor and "the Gap," the tall sandstone cliffs that guard the harbor mouth. Rather than simply admiring those views, though, he has spent the past 40 or so years persuading tortured souls not to jump to their deaths.
When he moved here with his wife, Moya, Mr. Ritchie was aware of the Gap's reputation as Australia's most notorious suicide spot. But he didn't think much about it.
Almost from Day 1, though, he found himself keeping an eye on the rugged cliff tops. Since then, he has coaxed hundreds of people back from the brink: the desperate, the depressed, and the mentally disturbed.
Ritchie, now an octogenarian, has been awarded a bravery medal and an Order of Australia, the country's second-highest honor.
To some, he's the "Angel of the Gap." It's an accolade that makes him smile with embarrassment. "Now I'm an old angel," he says during an interview at his home in Vaucluse, a suburb east of Sydney.
He and Moya live across the road from the Gap. Through the picture window in their living room, he has a bird's-eye view of the cliffs, which attract a steady flow of tourists and joggers. If he sees someone lingering a little too long, he crosses the road and offers them a cup of tea.
Over the years, many have followed him home. Others have not – his kind words have been the last thing they heard.
The self-effacing former salesman shrugs when you ask him why he does what he does. "I'm just trying to save a life," he says. "I used to sell kitchen scales and bacon cutters, then I was state manager of a life insurance company. At the Gap I'm trying to sell people life."
---