Using hands-on philanthropy to bring Haiti relief
Millionaire contractor James Ansara wanted to do something for Haiti, so he's building a hospital as his charitable work.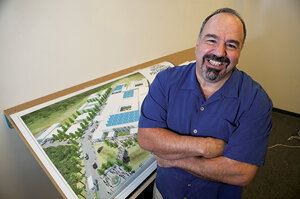 Melanie Stetson Freeman/Staff
Ever since a devastating earthquake rocked Haiti a year ago, James Ansara of Essex, Mass., has been demonstrating how he's not your typical multimillionaire philanthropist.
While his peers were writing checks, Mr. Ansara was doing that – and much more. Days after the quake hit, he was up to his elbows in rubble, repairing generators with his own hands and restoring power to a desperate situation in Port-au- Prince, Haiti's capital.
He keeps going back, week after week, in a bid to bring world-class health care to the hemisphere's poorest country.
"I think it's really one in a million [donors] who are [as] personally invested" as Ansara is, says Bill Shore, executive director of Share our Strength, a Boston-based antipoverty organization with projects in Haiti. "Generally, we might be successful in getting [donors] to make a trip or two to a place like Haiti ... or New Orleans, after Katrina. But for someone to go down there on a weekly basis since January [2010, as Ansara has] is remarkable."
Ansara, a construction magnate who retired early, brings a rare combination of personal wealth, practical skills, deep experience and – perhaps rarest of all – a willingness to share in Haiti's suffering.
He needs all those qualities in his current volunteer role with Partners in Health (PIH), a nonprofit that runs 60 hospitals in 12 countries. Ansara is director of construction for PIH's Mirebalais Hospital, Haiti's largest postquake building project.
---