Hilton Kelley helps clean up Texas Gulf Coast town
Hilton Kelley balances fighting air pollution with job creation and talking with chemical and oil companies in Port Arthur, Texas.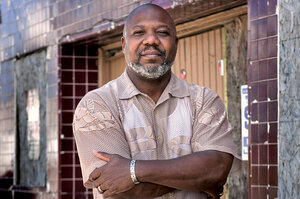 Carmen K. Sisson/Cloudybright
Three girls watch as the tall, well-dressed man strides down the cracked sidewalk, across the playground, through the weeds, past the swings, and toward a merry-go-round that might have once been blue but is now a tired gray.
They seem wary here in the shadows of the housing projects and petrochemical plants that make up their world. Life on the west side of Port Arthur, Texas, is hard; street smarts come early by necessity.
Hilton Kelley grew up in the same squat brick building where they live; breathed the same fetid air; dodged the same haze of pollution, crime, and poverty. As a teenager, he settled scores with his fists. Now he fights with words and a five-gallon bucket used for testing the air, making sure Port Arthur's chemical plants and oil refineries – some 70 in all – follow the law.
Mr. Kelley has won a lot of victories in 11 years. In 2000, he formed the Community In-Power and Development Association (CIDA) to collect data on pollution levels. He stormed corporate shareholder meetings and distributed photographs of Port Arthur children wearing respirators.
Armed with air samples and statistics, he took on the Motiva refinery – separated from the girls' playground by only a chain-link fence – and secured a $3.5 million settlement for the community.
When Motiva decided to increase production from 285,000 barrels of oil a day to 625,000 barrels, making it the largest refinery in the United States, he pushed for flame and sulfur recovery units to cut down on dangerous emissions.
Last year, the Environmental Protection Agency named Port Arthur a "showcase community," awarding $100,000 to help the city meet its environmental and health challenges. This month, Kelley will accept a $150,000 Goldman Environmental Prize for his efforts.
---