Juan Castillo teaches immigrants who speak obscure languages how to make it in New York.
Some immigrants from Mexico don't speak Spanish or English but native languages. Juan Castillo helps them learn.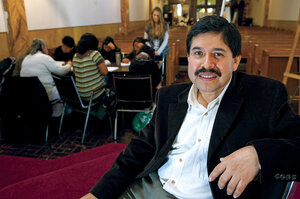 Melanie Stetson Freeman/Staff
All of Juan Castillo's adult students have had little or no formal education. But that isn't always the main impediment to them tackling their classes, taught in Spanish or English.
It's the fact that they don't speak either of these languages.
Many of Mr. Castillo's approximately 400-plus students do come from Latin America – Mexico, Guatemala, El Salvador, and Ecuador. But they are from indigenous communities where idiomas de la tierra, local native languages, are spoken.
QUIZ: Could you pass a US citizenship test?
Ethnic communities like the Mixtecos, from southwestern Mexico, often live isolated lives in New York. Those who cannot speak Spanish avoid shopping trips or other ventures around the city, and routinely refuse invitations from Hispanic social organizations to attend meetings.
"It's hard to approach them and difficult, even for us, to get into these communities," says Gabriel Rincon, president of the Mixteca organization, which provides health and educational services to Hispanic immigrants in Brooklyn. "It's a major problem.... There's an element of fear that exists."
---