Catherine Rohr helps ex-cons return to society by learning to start businesses
Former venture capitalist Catherine Rohr founded the nonprofit Defy Ventures to train ex-prisoners in the ethical and other demands of becoming legitimate entrepreneurs.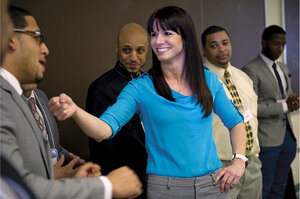 Ann Hermes/Staff
It's an early Saturday morning, and 31 business executives and money managers are mingling in a New York City classroom with 31 ex-convicts who have served time for burglary, drug dealing, and attempted homicide.
Catherine Rohr is thrilled.
The former venture capitalist has brought the criminals and executives together as part of her new nonprofit group Defy Ventures, aimed at helping prisoners reenter society by putting them through a yearlong entrepreneurship training program and "Survivor"-like competition for $100,000 in seed money to launch their own businesses.
IN PICTURES: Alabama Prison Arts + Education Project
"I have these moments of thinking, 'Is this really happening?' " Ms. Rohr says. "I love business, I love doing deals, but I know why I'm here on Earth."
At a time when bankers and private-equity managers are often vilified as "vulture capitalists," Rohr and her cohort in the top percent are helping the bottom percent. In addition to raising $800,000 in grants and private donations, Rohr has taken out $60,000 in personal loans to fund the program and pay the $15,000 annual tuition for Defy participants – an education that's pricier than a year at a community college but half the average cost of a year's imprisonment in the United States, according to the Pew Research Center.
Defy's premise is that many of the skills needed on Wall Street – calculated risk-taking, creating an intelligence network, money management – overlap with the Mean Street of drugs and gangs. By bringing together people from both walks of life, Defy aims to provide former criminals with the education, encouragement, and character development to put their skills to positive use.
---