Rohini Nilekani pours her wealth into getting books to India's poorest children
When she found herself suddenly wealthy, the Indian philanthropist founded Pratham Books, a nonprofit publisher that uses innovative ways to put low-cost books in the hands of millions of kids.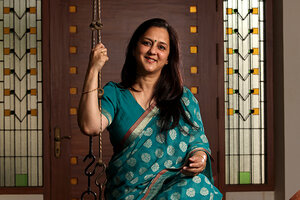 Namas Bhojani
"My mission is to put a book in every child's hand," says Rohini Nilekani. That's an ambitious goal anywhere, but especially in India, where there are more than 300 million children, most of whom can't afford books, or even read.
Ms. Nilekani is founder-chairperson of Pratham Books, a nonprofit publishing house that uses innovative ways to tap India's vast market.
"The children we reach are first-generation readers," she says. "Their parents probably don't know how to read. They may never have bought a book in their lives."
Set up in 2004, Pratham Books is an offshoot of Pratham, one of India's largest nonprofit groups, which supports education across India.
"Pratham was already teaching millions of children, but there was no [high-]quality content out there. What there was was too expensive," Nilekani says. So Pratham Books was set up to bring "as many [high-]quality books as possible, as cheaply as possible, in as many languages as possible, to the unreached child," she says.
Eight years later, Pratham has published more than 10 million books with 225 titles in 11 languages. Most of the books are priced at less than 25 rupees (about 45 cents).
Nilekani's own journey is something of a fairy tale. She has gone from being a middle-class journalist (something of an "activist," she says) to being a wealthy philanthropist. In 1981, when just 20 years old, Nilekani invested 10,000 rupees (about $180) – all the money she had – into a company cofounded by her husband, Nandan Nilekani, along with six close friends. That company grew into Infosys Ltd., India's second-largest technology company, with a net profit of $1.72 billion in the last financial year.
Nilekani, who owns 1.41 percent of the stock, is now one of India's richest women. She calls herself an "accidental philanthropist" because of her accidental wealth.
---