Entrepreneur Joe Edwards helps make St. Louis vibrant again
By restoring buildings and activity to a historic St. Louis neighborhood Joe Edwards has become a powerful force for civic good.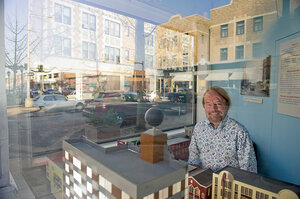 Ann Hermes/Staff
Every once in a rare while comes a chance to meet American royalty. If you are in Massachusetts, you might encounter a Kennedy. In New York it could be a Rockefeller. But in St. Louis it would have to be Joe Edwards.
"In this city, Joe Edwards is a prince," says Ray Hartmann, founder of Riverfront Times, the city's alternative newspaper, and a journalist who has covered the city for decades. "Or at least he's the closest thing that we've got."
The soft-spoken Mr. Edwards, who sports a ponytail and seems most at ease in faded jeans, actually looks more like a vintage rocker than a potentate of any kind.
But according to many of his grateful fellow St. Louisans, Edwards has been a powerful force for civic good. "It's hard to give anybody single-handed credit for something this big," Mr. Hartmann says, "but [Edwards] is largely responsible for saving one of the most historic parts of the city."
It all began in 1972, when Edwards, fresh out of Duke University, moved back to his hometown of St. Louis. Casting about for a career, he decided to bank on his love of music and opened Blueberry Hill, a small restaurant and bar that featured live performances. For his venture he chose a storefront on Delmar Boulevard, a retail area that locals call "The Loop" (named for the trolley that once used to turn around there).
Back in the 1920s and '30s The Loop was an elegant shopping street, and up through the '50s it remained a major draw for young St. Louisans, featuring movie theaters, soda fountains, a night club, and a record store.
---