Greg Mortenson: when 'do gooders' become celebrities
(Read article summary)
The truth is still being sifted about Greg Mortenson, best-selling author and philanthropist. But maybe an early warning came when the story became all about him.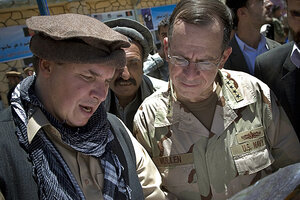 U.S. Navy Petty Officer 1st Class Chad J. McNeeley/Department of Defense/AP/File
The Greg Mortenson story continues to play out as a slow motion tragedy.
The "60 Minutes" report (see video here) alleging fabrications in his book "Three Cups of Tea" itself is now receiving scrutiny. In a series of interviews with the editorial director of Outside magazine, Alex Heard, Mortenson conceded he had made mistakes both in "Three Cups of Tea," and in the way he has managed his nonprofit group, the Central Asia Institute (CAI). But he also disputes the most serious allegations against him.
A prominent voice in the "60 Minutes" piece, journalist Jon Krakauer, has written his own scathing critique of Mr. Mortenson's conduct in an online article called "Three Cups of Deceit" (payment required). Mr. Krakauer claims Mortenson, who has been nominated for a Nobel Peace Prize, is "not what he appears to be" and that Mortenson "has not only fabricated substantial parts of his bestselling books Three Cups of Tea and Stones into Schools but has also misused millions of dollars donated by unsuspecting admirers...."
---