Opportunity Fund helps opportunity knock for low-income borrowers
(Read article summary)
Micro-lending to the poor in the US is quietly growing. But the Opportunity Fund finds that helping people learn how to save is important too.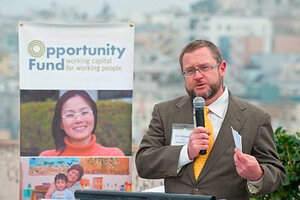 Courtesy of the Opportunity Fund
Micro-lending giants in the developing world, such as the Grameen Bank founded by 2006 Nobel Peace Prize winner Muhammad Yunus, have received a great deal of publicity. At one point these efforts – usually tiny loans of a few dollars to help start a one-person business – were seen as a possible cure-all for poverty. But, perhaps predictably, as more companies have seen opportunities to make money and entered the business, micro-loans in poor nations have come under criticism as sometimes exploitative and poorly managed.
Fewer people know that micro-lending is alive and growing in the United States, where it competes in a much different, highly sophisticated and crowded financial marketplace. In 2008, 362 micro-lenders in the US made more than 9,000 micro-loans totaling just over $100 million.
Each loan keeps or creates 2.4 jobs on average, according to the Opportunity Fund, a micro-lender that operates in the San Francisco Bay area. While mainstream bank lending dropped by 77 percent in California during the recent credit crunch, the lending by the Opportunity Fund increased 56 percent, it says.
In a phone interview, Eric Weaver, the founder and CEO of the Opportunity Fund, talked about how micro-lending and micro-saving works in the US, who it serves, and why it's helping low-income people stay out of financial trouble.
---