In Ohio, a fresh approach to help struggling homeowners
(Read article summary)
ESOP works by acting as a good-faith liaison between mortgage lenders and borrowers, helping people who are straining to pay their mortgages stay in their homes.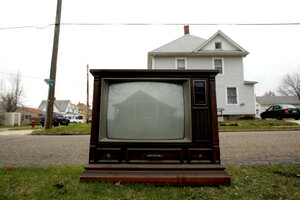 Eric Thayer/Reuters/File
In 2010, when Antonio Martin, a 36-year-old husband and father of three who lives in a suburb of Cleveland, was laid off from his job at a Verizon retail store, he could no longer afford his $1,132 monthly mortgage payments.
This is no longer a unique position in the United States. "Home values have dropped so far, so fast, that nearly 25 percent of mortgage holders today owe more than their house is worth," reported a recent episode of "60 Minutes."
Martin had previously struggled with his mortgage, years ago, when he found that the adjustable-rate loan he had taken on was making his payments skyrocket.
The organization ESOP (Empowering and Strengthening Ohio's People) had helped Martin renegotiate that loan. Now, unemployed and in fear of losing his family's home, he turned to ESOP again.
The result, after Martin enrolled in a principal reduction modification loan from Ocwen Financial Corporation, was that his mortgage payment went down to $640 per month. On top of that, the principal loan on the house – which is rapidly depreciating in value – will be reduced by $34,000 each year for three years, for a total reduction of $112,000.
---