As tensions over wealth gap rise, the rich are giving more
(Read article summary)
The top 50 charitable donors gave more in 2011: Are the super rich feeling the sting of public opinion?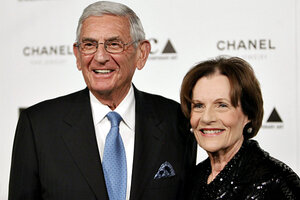 Danny Moloshok/Reuters/File
The super rich grew more charitable last year, as public opinion of them became less so.
The 50 donors on The Chronicle of Philanthropy's annual list of the most generous Americans gave a median of $61 million in 2011, compared with $39.6 million the previous year. Collectively, the philanthropists in The Chronicle's rankings lavished $10.4-billion on charitable organizations last year, although a single bequest from the agribusiness heiress Margaret A. Cargill accounted for $6 billion of that total.
The über-wealthy cut those checks against a backdrop of increased scrutiny. The Occupy Wall Street movement and growing concerns about an economic divide have made a target of multimillionaires and billionaires, with mixed implications for their philanthropy. While some fundraisers and philanthropy watchers say the rallying cries of the 99 percent may stir greater generosity, particularly to social-service groups, The Chronicle's numbers don't show a shift in how the rich are directing their giving.
RELATED: Top 5 on Forbes rich list? Bill, Warren ... and Carlos!
David Callahan, a senior fellow at Demos, a left-leaning think tank, says that, historically, wealthy donors have stepped forward when concerns about inequity have flared.
"I don't think it's a coincidence that the first great year of philanthropy coincided with the progressive era, in that you had people like Andrew Carnegie and [John D.] Rockefeller recognize that there are big disparities in society and they had themselves been subject to intense criticism," he says.
---