Bringing quicker, easier solar power to rural Africa
(Read article summary)
SolarNexus custom designs small solar power systems so that they can be easily installed in the field, providing a kick-start to the local economy.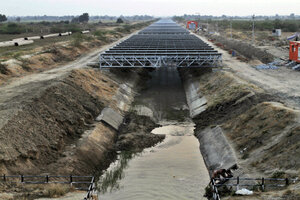 AP Photo/Ajit Solanki
In rural Africa, more than 90 percent of people do not have access to electricity. To address this problem, Solar Nexus International (SNI) has designed a contained system of solar power generation that can be installed relatively quickly and easily.
The heart of this operation is the SolarNexus, a small device that links wires, transformers, converters, inverters, and batteries required in an off-grid electricity system. Through this device, Solar Nexus hopes to fulfill its mission for "solar empowerment through market-based development of local solar energy resources worldwide."
Typically, it takes a fair amount of knowledge and training to set up an electricity-generating system. Whether solar, hydropower, or wind, transforming captured energy into useful electricity requires a variety of different hardware, not always available in developing countries.
IN PICTURES: Solar power: Harnessing the sun's energy
If any of this hardware is improperly installed, or if wires are not the proper size, the efficiency of the system suffers severely. When these systems are installed in developing countries, high-grade wires are usually not used because they are too expensive or not available, and as a result less electricity is available for use.
---