On International Women's Day: 12 innovations that are lifting women out of poverty
(Read article summary)
International Women's Day (March 8) celebrates women's achievements. Innovative ideas and programs, such as the 12 below, are helping women better care for themselves and their families.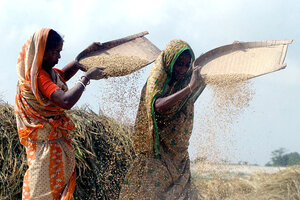 Rafiqur Rahman/Reuters/File
Women have proven to be a powerful force in the fight against global hunger and poverty, especially in agriculture. Worldwide roughly 1.6 billion women rely on farming for their livelihoods, and female farmers produce more than half of the world's food. In sub-Saharan Africa alone, women account for 75 percent of all the agricultural producers.
Today we observe International Women's Day, a global celebration and recognition of women's achievements.
Women farmers face a variety of obstacles, including a lack of access to information technology, agricultural training, financial services, and support networks like co-operatives or trade unions. Without these services, women cannot develop resilience to political, economic, social, or environmental upheaval, and they remain dependent on their male family members.
RELATED: International Women's Day: How it's celebrated around the globe
---