Access to energy - necessary but not sufficient to cut poverty
(Read article summary)
The UN estimates that 1.4 billion people have no access to electricity, hurting their ability to earn a living or educate their children. But connecting to an electric grid may not be the only solution.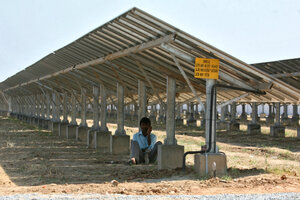 Amit Dave/Reuters/File
Every year, the UN chooses a social or environmental issue of global importance – such as biodiversity (2010) or microcredit (2005) or sanitation (2008) – to bring attention to the issue or issues, and to drive resources toward solving them. This year, 2012, is the International Year of Sustainable Energy for All.
The UN estimates that 1.4 billion people have no access to electricity, either because energy services are not available or because they cannot afford to pay for them. While that sounds inconvenient to people who can switch on a light bulb or charge their cell phones at any time, the need for energy is about much more than convenience.
Access to energy affects how much time a child can spend on his or her homework; it determines how a family cooks (which has implications for health – traditional cookstoves, for example, are big contributors to respiratory illness) and how much time is spent on this task; and it impacts a person's ability to earn income, whether it's light to keep a shop open at night or fuel to operate an irrigation pump on a farm.
This last piece is the focus of Poor People's Energy Outlook, a new report from Practical Action, a UK-based organization that uses technology to challenge poverty and puts out a major report on various aspects of energy access annually or every other year. The 2010 report focused on energy in the home, an area that covers lighting, cooking, space heating and cooling, and information and communications. The 2012 report focuses on the impacts that access to energy has on the ability of the world's poorest people to earn a decent living.
---