Green roofs in Nairobi save energy, water
(Read article summary)
These gardens in the sky sometimes boast trees, as well as grass and other plants, which cool the building while sucking up carbon-dioxide pollution.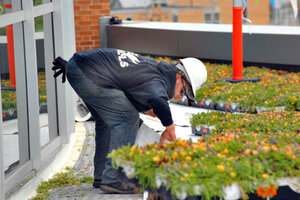 Steve Smedley/AP/The Pantagraph
Kenyan architects are designing buildings with green roofs covered in vegetation to cool their interiors, conserve energy and water, and help curb greenhouse-gas emissions.
The capital, Nairobi, is experiencing growth in green-roofed construction, according to architects who specialize in the climate-friendly technology.
Some of these gardens in the sky – which require a flat roof and replace the vegetation destroyed when ground is cleared for construction – boast trees, as well as grass and other plants.
With urban trees and nearby forests being cut down for firewood and new development, green roofs are increasingly seen as a means of restoring city environments, while their plants suck up planet-warming carbon dioxide.
IN PICTURES: Moshe Safdie: Architecture designed for dignity
The East African Coca Cola Company, headquarters on the outskirts of downtown Nairobi, has led the way. Completed in 2008, and located in a smart suburb hosting several embassies, it is one of the most expensive buildings in Africa.
Its green roof garden serves as a recreation area for employees and ensures there is minimal heat gain through the roof, according to Triad Architects, which worked on the project.
"The green roof garden keeps the building cool," said Bob Okello, communications manager at Coca Cola in Nairobi.
Green roofs have a modest cooling effect on building interiors, which cuts energy consumption by air conditioning, experts say.
They can also recycle water used inside the building, if mini water-treatment plants are installed on the roofs, according to architectural consultant Francis Gichuhi.
"Water from showers, sinks, and baths is treated and re-used within the building. Green roofs can save on water bills by up to 30 percent," he said.
---