Ex-NASA engineer designs an app to chart water quality
(Read article summary)
John Feighery created mWater – a cell phone app that instantly records and maps the results of water-quality tests, making monitoring of water quality in developing countries quicker and easier.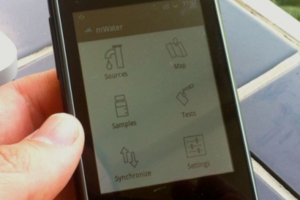 ALERTNET/Handout
When environmental engineer John Feighery got an internship at NASA in the 1990s, he wanted to be an astronaut. Instead, he was given a job working with a team designing the US bathroom for the International Space Station.
The small, closet-like space needed a toilet, a place for hand washing, a place for bathing, and a place to keep toiletries. Feighery also worked on a project to fix equipment designed for monitoring crew health, which included testing water and air quality.
After the Columbia Space Shuttle accident in 2003 left seven crew members dead, the Space Shuttle program was suspended and further work on the International Space Station was delayed.
Feighery turned his focus from managing water, sanitation, and health problems in space to those on Earth.
"I'd been working on supplying clean water to three or four people in space, and meanwhile there are a billion here on earth that don't have it," Feighery told AlertNet. "The world that my kids are going to grow up in has this huge problem that I felt like I could work on."
After he left the US National Aeronautics and Space Administration, Feighery got a job testing well water in Bangladesh funded by the National Institutes of Health, part of the US Health and Human Services department.
---