Bartering may boost food supply for rural Kenyans
(Read article summary)
The age-old practice of bartering – trading goods without exchanging money – may provide a better return for Kenya's rural poor.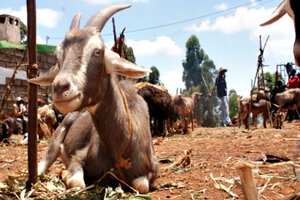 Kagondu Njagi/AlertNet
It may be dismissed by Kenya's middle classes and elites as primitive, but farmer Leah Wambu, is convinced that bartering promises a new way of protecting rural food supplies as climate change takes hold.
Swapping one type of goods for another instead of for cash is an age-old practice. For a growing number of people like 69-year-old Wambui, from Nyeri, it is gaining new appeal as a way to combat increasing food scarcity in rural areas such as hers in central Kenya.
"If I need a chicken, I take a basketful of maize to the market and look for someone interested in my goods," says the cheerful grandmother. "If we agree the goods meet each others' worth, then I will trade my grain for the chicken."
RELATED: Food security in Africa
At the nearby Gakindu shopping center where Wambui stations herself, the market is abuzz with activity as traders cart in bags of farm produce, with flocks of goats and sheep, and herds of cattle and pigs in tow.
The chatter and haggling continues until around midday, when rural folk like Wambui head back home to see their fetch is enough to feed their families.
This is not how she has always operated. "I used to sell my grain to middlemen who would come to the village during the harvesting season," recalls Wambui. "They would buy it at a throwaway price."
Once her store of grain was empty, she would spend her meager earnings on food for her family, but it would not last to the next harvest. And harvests have become unreliable in recent years as rains fail or crops are destroyed in extreme downpours, worsening the cycle of want and hunger.
This changed for Wambui when she rediscovered bartering at a community meeting called by the village chief to discuss the drought of 2011, Kenya's worst on record.
"I was relying on relief food but the supplies would take a month to arrive," she recalls. "Sometimes corrupt officials would sell off a part of the supplies."
---