Shoppers add charitable giving to their lists
(Read article summary)
Purchases that give a portion of the sale to a charity make shoppers feel good but may diminish overall giving to that charity, a consultant says.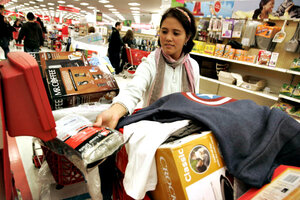 Jonathan Alcorn/Reuters/File
At the peak of the shopping and giving season, consumers are increasingly combining both activities.
They are buying products that have charitable tie-ins, shopping through web portals that send savings to nonprofits, and donating at the registers when they check out at physical stores. They're buying product lines like Newman's Own, which channels profits to a foundation, and TOMS Shoes, which gives a pair of shoes to a needy child for every pair the company sells.
These charity-linked purchases might give consumers a good feeling, but are they good for charities? And for shoppers?
Laura Brooks is a stay-at-home mom and lives in St. Louis with her husband, Steve. After one of her three children asked for a pair of TOMS shoes last year, it occurred to her that she could incorporate giving into her regular shopping. She now also buys most of her children's books through the Kohl's Cares programs, which donates 100 percent of proceeds to children's causes.
"I bought all these things before – shoes or salad dressing – but now it feels like I am doing good, too," Brooks said.
Maybe so, but only if those shopping decisions aren't taking the place of her other charitable giving, say some experts.
Charitable shopping "undermines the philanthropy of a nonprofit through diminished charitable donations," said Sondra Dellaripa, principal consultant for the nonprofit consultancy Harvest Development Group.
In fundraising development for charities, she said, it is important to build a relationship with a donor – something that doesn't happen in these transactions.
---