Reviving Europe's biodiversity with exotic animals
(Read article summary)
Scientists are bringing back long-lost species, such as water buffalo, to encourage the spread of native plants that fare poorly in Europe's human-dominated landscape.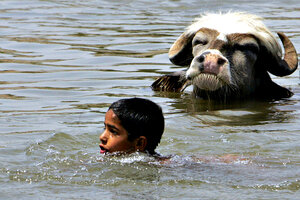 Amit Gupta/Reuters/File
With its tiny houses nestled along the main road and its red-brick church, Töpchin — just 25 miles outside of Berlin — is a traditional-looking Brandenburg village. But heading east through the marshland that borders the village, a visitor encounters the unexpected: five huge Asian water buffaloes.
The species was native to Europe until 10,000 years ago, when hunting shrunk its range to the continent's far southeast. So Germans know these beasts only from pictures of them in fields and rice paddies in Asia. "Some people are really confused when they see the water buffaloes," says Holger Rössling, the man who set the animals free in Töpchin in the summer of 2011. But the black creatures with massive horns and an impressively muscular build appear to be very much at ease in their new home. And they are meant to stay.
Rössling is a project manager with the Brandenburg Nature Conservation Fund, a government agency in the federal state surrounding Berlin. The group brought in the water buffaloes from a special breeder in France so they would graze threatened tracts of fens and remnant inland salt marshes, as German cows have long since lost their affinity for grazing in such wet or nutrient-poor environments.
The Töpchin project is an example of a growing conservation trend in Europe — using large, exotic herbivores to enhance the diversity of native flora and fauna. Many people still believe that nature conservation is all about leaving native plants and animals alone, or restoring their habitats to a wild state. But in a world dominated by humans and rapid environmental change, things have become more complicated. The answer isn't always to strive for a regionally "pure" mix of native species. A growing number of conservationists now seek to employ exotic species for managing native biodiversity.
---