Using Hollywood to teach people about disaster giving
(Read article summary)
Mike Rea latched onto the release of a Hollywood film on the 2004 tsunamis in Asia to help spread his message about how to effectively support charities engaged in disaster relief.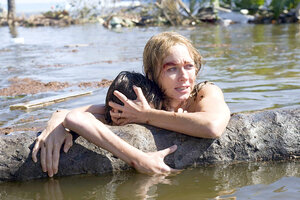 Jose Haro/AP/Summit Entertainment
Mike Rea, founder of Give2Asia, calls the 2004 Asian tsunamis the "first global disaster of our time."
Now an employee of the Bill & Melinda Gates Foundation, Mr. Rea wanted to use the disaster's 10th anniversary to investigate what had become of the millions of dollars his group contributed, and the many people it aspired to help.
Then he learned that Hollywood was producing its own retrospective (of sorts) on the tsunamis. Even better, he thought, for educating people about a once-devastated land and ways to respond effectively in the wake of natural emergencies.
So Mr. Rea fast-tracked his plans for his "Tsunami Plus 10″ Project to coincide with last month's release of The Impossible, a film starring Ewan McGregor and Naomi Watts.
Mr. Rea traveled to Sri Lanka in August where he filmed a "mini-documentary" called "To Sandy From Sri Lanka: Lessons in Diversified Disaster Giving." He reached out to the producers of The Impossible, who invited him to the premiere of the film and enabled him to interview its director, Juan Antonio Bayona. Mr. Rea also released a "viewer's guide" to the movie; so far, it's received at least 12,000 views. (The project is a personal one, not part of Mr. Rea's work with Gates).
One of his hopes is to give people a richer understanding of the tsunamis than they can get through The Impossible. The film focuses on a white family of tourists whose visit to Thailand is disrupted by the disaster.
---