Baghdad book market revives after devastating bomb
A correspondent who often visits the popular Mutanabi market finds it to be a useful gauge of hope in the Iraqi capital.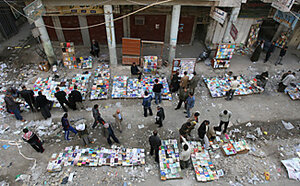 Khalid Mohammed/AP
Dusty books lie on flattened cardboard boxes on a sidewalk buried in litter and building debris. Their vendors hunch over and sip hot black tea to fend off the cold. What matters is that they're here.
Amid wreckage, deserted buildings, and the devastated Shahbandar coffeehouse, the Mutanabi Street book market is reviving. A microcosm of today's Baghdad, it attests to a hope for better things now that violence in the capital is noticeably down.
Through Saddam Hussein's oppression, the US-led invasion of 2003, and the ensuing tumult, the Mutanabi market – started by middle-class Iraqis during the crippling 1990-2003 UN sanctions – never ceased to be a favorite Friday hangout for intellectuals, artists, and students.
But when a car bomb ripped through the market on March 5 last year, many thought its days were over. Blamed on Al Qaeda militants, the attack killed 38, wounded 100, and wiped out dozens of bookstores, stationery shops, and presses. The burning stench hung in the air for days. But it did not stop Sunni, Shiite, and Kurdish vendors from continuing to work here in harmony.
"The bomb did not change the way we feel about each other in the market," says Atta Zeidan, a secondhand-book seller.
---