On Mideast trip, Bush hopes to propel historic Israeli-Palestinian peacemaking
In Jerusalem Wednesday, the president called for two democracies, Israel and Palestine, to live side by side.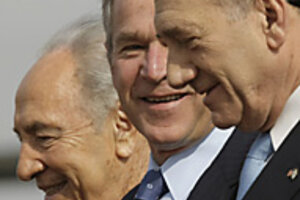 Pablo Martinez Monsivais/AP
The patriotic tunes that greeted President Bush as he arrived in Israel Wednesday for the first time in his presidency set the tone for a historic visit.
But given the laudatory remarks of Mr. Bush and his Israeli counterparts on the airport tarmac, the visit seemed focused on celebrating and strengthening the US-Israel relationship, throwing into question whether Bush would be equally welcomed Thursday in the West Bank.
In their speeches under a brisk and briefly sunny sky, neither Bush nor Israeli Prime Minister Ehud Olmert and President Shimon Peres mentioned Palestinians by name, only by inference. Mr. Peres, once at the center of peacemaking in the 1990s, quoted the words Bush himself intoned in a speech in 2002, saying "My vision is of two states living side by side in peace and security."
Said Peres: "Then it seemed remote. Now it is the basis for negotiations."
Bush spoke about the importance of Israel and the US as allies who built "two great democracies under difficult circumstances." "I knew I'd come back, because Israel is a special place," Bush said, emphasizing that he had been here once prior to being elected president. "The alliance between our two nations helps guarantee Israel's security as a Jewish state."
Those rang as reassuring words in Israelis' ears, in part because he used the same language that Mr. Olmert has been reiterating in recent speeches leading up to and following the Annapolis, Md., peace summit in November.
---