Iraq offensive: Clear out militants – and stay.
US, Iraqi operation in Diyala Province draws on a new counterinsurgency model.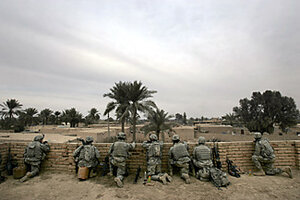 Marko Drobnjakovic/AP
US forces are solidifying control over some of the most persistent militant strongholds of Al Qaeda in Iraq northeast of Baghdad, drawing on a new counterinsurgency model that has already seen some success in troubled Diyala Province.
The newly established US military control over what officers call the "breadbasket" – the lush Diyala River Valley 70 miles northeast of the capital – is only the first part of a multiprong strategy to boost numbers of Iraqi Army and police in the area and re-connect beleaguered local authorities to the provincial government and Baghdad.
"We [and] the Iraqi forces and government are committing ourselves to staying in this area, which has previously not happened," says Lt. Col. James Brown, executive officer of the 4th Stryker Brigade Combat Team, 2nd Infantry Division. "It's been go in, find Al Qaeda in Iraq, kill them, and then leave. Big surprise, they come right back."
This push across the fields and palm groves of Diyala is part of a four-province offensive called "Operation Phantom Phoenix," which involves thousands of US and Iraqi troops going after Sunni militants that have been pushed out of Baghdad by the surge in US troops. The fall in violent attacks has been marred by a spate of car bombs and suicide attacks over the past two weeks in Baghdad; the US effort Thursday included the heaviest airstrikes since 2006 against some 40 targets south of the capital.
---