Winograd Report revives Israeli anger over Lebanon war
Many families of Israeli victims in the 2006 conflict now plan to call for Prime Minister Ehud Olmert's resignation.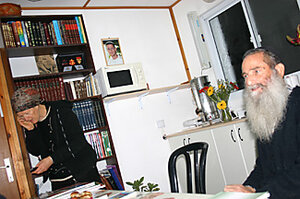 Ilene R. Prusher
Mevoot Jericho, West Bank
For the past year and a half, Yehoshua Meshulami has been going over the details of how his son's tank unit was sent into a Lebanese village in the last two days of war in July 2006.
As he sees it, the unit was sent in carelessly, underprepared and underinformed about the size and scope of the Hizbullah guerrilla forces that awaited them in ambush.
Mr. Meshulami's son, Amasa, never came home again, leaving behind a pregnant wife.
Now, as Israelis try to decipher the findings of the final report of the Winograd Commission, which was released Wednesday amid great anticipation and harsh winter weather, families like the Meshulamis are in the eye of the storm.
Many bereaved families have joined together in their grief and are spearheading a movement to try to get Israeli Prime Minister Ehud Olmert to take personal responsibility for the war's failures and resign.
The ensuing political maelstrom means that ears are bent toward the voices of people who were affected most by Israel's losses during the war, which included 119 Israeli soldiers and 39 civilians; more than 1,000 Lebanese civilians and combatants died.
But eyes are also turned to leading politicians in Mr. Olmert's own cabinet, foremost among them Defense Minister Ehud Barak, the Labor Party leader and a former prime minister. Mr. Barak has said in the past that if Olmert came out looking reprehensible in the final Winograd Report, he would force Israel to hold early elections to drive Olmert from office.
---