Is the Mahdi Army's 'cease-fire' over?
Recent clashes between the militia and Iraqi forces threaten to undo a lull in the group's activities.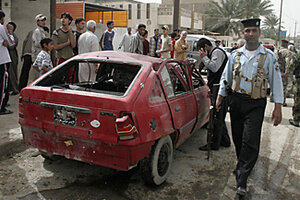 Jaafer Abed/Reuters
The gun battle in Sadr City between Shiite militiamen and the Iraqi Army lasted only 10 minutes, according to residents of the slum where Moqtada al-Sadr holds great sway.
In the end, as many as 18 soldiers were captured after the March 8 ambush, carried out by so-called "rogue elements" of Mr. Sadr's Mahdi Army.
The US responded immediately, cutting off bridges and sealing off all the main entrances to the district as the hunt for the soldiers began.
The next day, the men were freed, but not all of them returned with their guns, newly issued US manufactured M16s that are now believed to be in the hands of an element of Sadr's militia that does not appear to be abiding by a freeze in operations ordered last August. About 10 rifles are missing.
Over the past 10 days, violence has tested the militia's period of quiet, which many say has contributed to a drop in US and Iraqi casualties, and seems to indicate deepening fissures within Sadr's powerful organization.
For the Iraqi Army, the loss of the weapons, even though only a relatively small number, is not only embarrassing but also shows how quickly the M16s, issued recently to replace inferior AK-47s, can fall into enemy hands.
---