Is life for Iraqis improving?
Five years after the US invasion, some see flickers of hope.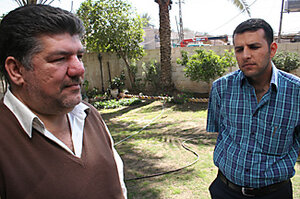 Sam Dagher
Five years ago, every textbook printed at the Al-Saadoun publishing company had to have a color photo of Saddam Hussein on the first page.
On a recent morning, the noisy printing presses were churning out thousands of booklets promoting the ideas of Shiite Muslim clerics. That would have been unthinkable under Mr. Hussein's regime.
For company owner Muwaffaq Abu Hamra and his prominent Shiite family, the fall of Hussein means religious freedom – the ability of more than half the nation's population to publicly practice their faith without official persecution.
"The Americans did what we could not do: they removed Saddam," says Muwaffaq. "We are indebted to them for that. But we are now close to forgetting this good deed because of the suffering of the past five years."
The experiences of Muwaffaq's family mirror the hardship and determination of many Iraqis since the US invasion of Iraq on March 20, 2003. Muwaffaq, like many of his countrymen, today finds fresh hope in the significant drop in violence and sectarian killings over the past few months.
When asked how they expect things to be one year from now, 45 percent of Iraqis said things would be somewhat better or much better, according to the results of a poll commissioned by the BBC and ABC News and released Monday. That's up from 29 percent six months ago, but lower than in 2005. The poll shows that Shiites and Kurds are more optimistic than Sunnis.
---